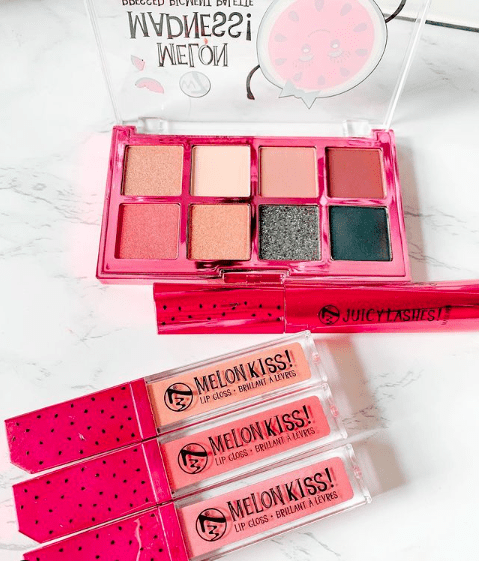 I have a brand new collection to share with you guys today, this is the W7 Makeup Melon Madness Collection. I am going to be sharing my first impressions about this collection.
This review of W7 Makeup products are complimentary PR products.
In this collection we have a pressed pigment eyeshadow palette, juicy lashes mascara and three different lipglosses.
Melon Madness Pressed Pigment Palette
The Melon Madness pressed pigment palette is a absolute summer staple! This palette is full of fun pink, nudes and darker shimmers. I have actually filmed a Youtube tutorial trying these products, feel free to give that a watch and don't forget to subscribe!
As I was saying in the video, the mattes are super pigmented however I felt like the shimmer I used wasn't majorly pigmented but it looked beautiful regardless. I love how well the eyeshadow shades blend in together and they just look beautiful.
Packaging
The packaging is the cutest ever I love how it is summer vibes with the watermelon pattern. I feel like this collection is very worth it. I have to say that £5.95 for this eyeshadow palette is an absolute steal!
Juicy Lashes Mascara
The juicy lashes mascara is a perfect summer one, it smells of watermelon! It really coats your eyelashes dark and it has a very unique shape wand to it, £3. I am not sure if I get on with this mascara completely yet as the shape of the wand is really different. I will be trying it for a few more days and see how I get on.
Packaging
The packaging on this mascara is super cute, with there watermelon themed packaging.
Melon Kiss Lipglosses
I have to say that the Melon Kiss Lipglosses are my favourite piece of the collection, I love how beautiful these lipglosses are. They go on so nicely, very buttery but not sticky. They set down really nice I can't explain it honestly you just need to try them!
I have the shades Melonaire, Sweet thing and Summer Lovin and my favourite is sweet thing! All at £3.95.
Overall this collection is beautiful, I am really impressed with the affordability of the products and how well they work. I am quite a lover of W7 Makeup I have tried many of their eyeshadow palettes but I have never tried there lipglosses or mascara ( I don't think) hehe.
*AD-PR PRODUCTS*