I have always loved home decor, always had a huge interest in it and dreamed of making my home look cosy and stylish. I have recently moved into an apartment late last year and we have still got so many pieces for the home left to buy. Me and my partner are renting this apartment and they seem to have curtains everywhere, personally I love curtains but what if you want a bit of privacy for your home but want to still let the light in. Blinds! we have been planning on getting blinds for so long but have never known which ones to get.
I have kindly been gifted two sets of venetian blinds from Makemyblinds.co.uk and I couldn't be more excited to show you! I can not believe how easy it was to choose my blinds and put the correct sizes in and get them shipped out to me. The website is so user-friendly it literally guides you through every single step, the first step is to choose your blinds, they have so many types of designs to choose from. I went for the boutique aluminium venetian and I am so happy with them. They are like a grey coffee colour and they look stunning, I have all crushed velvet furniture in the living room and they match so well.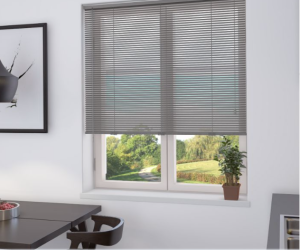 Installation was super easy, my partner put them up and he isn't usually the best at DIY but he smashed it with these. So easy to install, you can also choose whether you want the control options on the right or left to open and close the blinds which I think is amazing that it personalises it to your needs.
Lets talk about delivery, this is where I am super-duper impressed I ordered these on a Tuesday they came on the Thursday by DPD. I was so happy they bring all the right attachments and a list of instructions as well.
Overall I am very happy with these blinds and I will be purchasing more for the other rooms, I'm happy with the design, the service, installation and the delivery.
These products were gifted to me, all reviews are my own.