Deglam shop may not be a brand you have heard of or seen over social media, but it should be. I have been using their bristle bush for a few weeks now and I have to share it with you. I have noticed such an improvement, Lets talk about it.
Skincare Device
DeGlam is the leading beauty website in Europe, offering high quality skincare products and devices! Established by women, we know how significant it is to conserve youth and beauty for the longest time possible. That is why we pay tremendous attention to the quality of our products. Our Simple yet luxurious, skin care products and clinically proven devices aim to strengthen and soothe skin while delivering amazing results.
Brillo Facial cleansing brush leave the skin naturally beautiful and youthful, it brings a true spa-like experience to your daily home skincare routine, stimulates your facial muscles, reduces the size of pores and helping to reduce puffiness and improve blood flow and skin elasticity. Its ultrasonic technology provides a gentle, yet deep cleanses to reduce acne, remove blackheads, and reveal noticeably smoother, healthier, and younger-looking skin within just days.
If you know me at all you will know I love my skincare and I have never actually used a skincare device. I thought I would give it ago, I was kindly gifted this product however all opinions are my own. I have now been using it consistently for around 3-4 weeks and I have an opinion on it.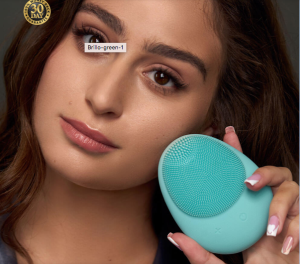 The pulsations in this device claim to work deep in to your pores to help clear your skin, the silicon also means it is more hygienic and easy to clean. You just need to apply your favourite cleanser and use it for about two minutes.
You can also increase the pulsations on this device, there is a plus and minus sign to change the pulsation style. This product has its own little stand and you also get a charger.
Overall I am so happy with my device, I will be using this going forward with my skincare routine. You can use my code MELISSA15 to get 15% off.