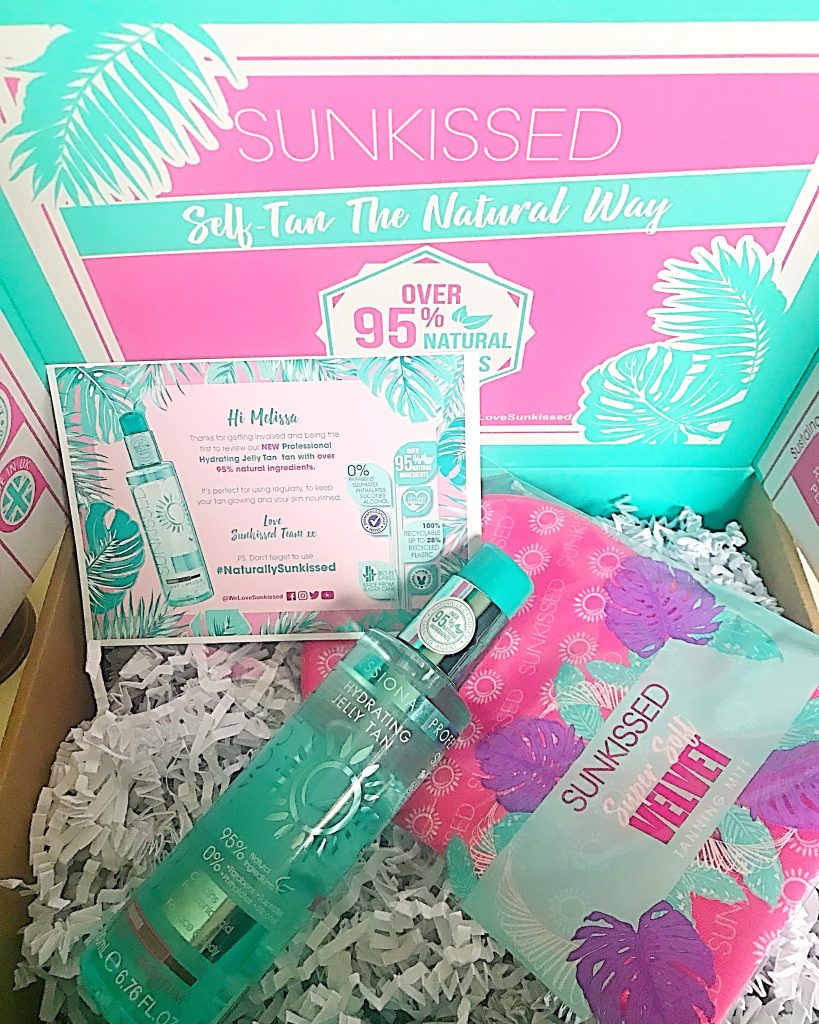 Oh My goodness I am so excited to share this with you guys! I am so happy I have been given this amazing opportunity to review this product. If you are following my social medias and YouTube channel then you will know I have recently been gifted Sunkissed NEW Hydrating Jelly Self Tanner.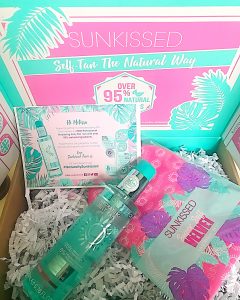 The packaging is so beautiful, I was given a sweet little note in there also saying welcome to the family and I am one of the first people to review this product. How lucky am I! The tan itself is so different from anything I have ever tried, it is a transparent jelly, I was also gifted a Sunkissed tanning mitt, I usually use ones from Primark and wow you can see a huge difference. I always come away with orange hands and tan in between my fingers from the tanning mitt. This tanning mitt is pure amazing quality that It didn't come of at all on my hands. I am so impressed with this.
When you first apply the jelly tan, its translucent so I was kind of thinking I need to 100% make sure that i put this on properly and evenly. It went on so smoothly, no horrible smell, no orange hands and no marks or patches.
Well….. I was not expecting this, the next morning I woke up I was such a beautiful golden brown tanned colour that I just couldn't believe it. It looked so perfect and natural, no marks, no streaks, no oxidising, no orange around my face or anything. Just pure perfection, I have had so many compliments from my family and friends since I used this tan. I am so impressed and I will definitely be using it again.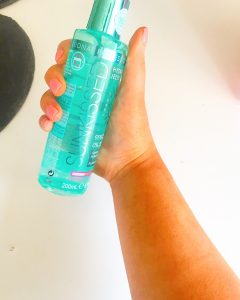 Sunkissed are an amazing brand that are providing quality products, this self tanner is vegan friendly, 98% natural ingredients and no nasty ingredients. No stained bed sheets or clothes, I have even been able to wear a white turtle neck with this tan on and nothing has come of on to my clothes. That is seriously impressive!
You can get yours too from Sunkissed for only £13.99.
If you want to see a review on how it looks and how I like it then check my YouTube channel.
P.S Don't forget to subscribe and follow my Instagram for all updates and Sunkissed Instagram.
I would just like to thank Sunkissed for such an amazing opportunity and also one of my closest blogger friend for making this happen for me! Bloggers Connected.
Melissa Jayne
XO