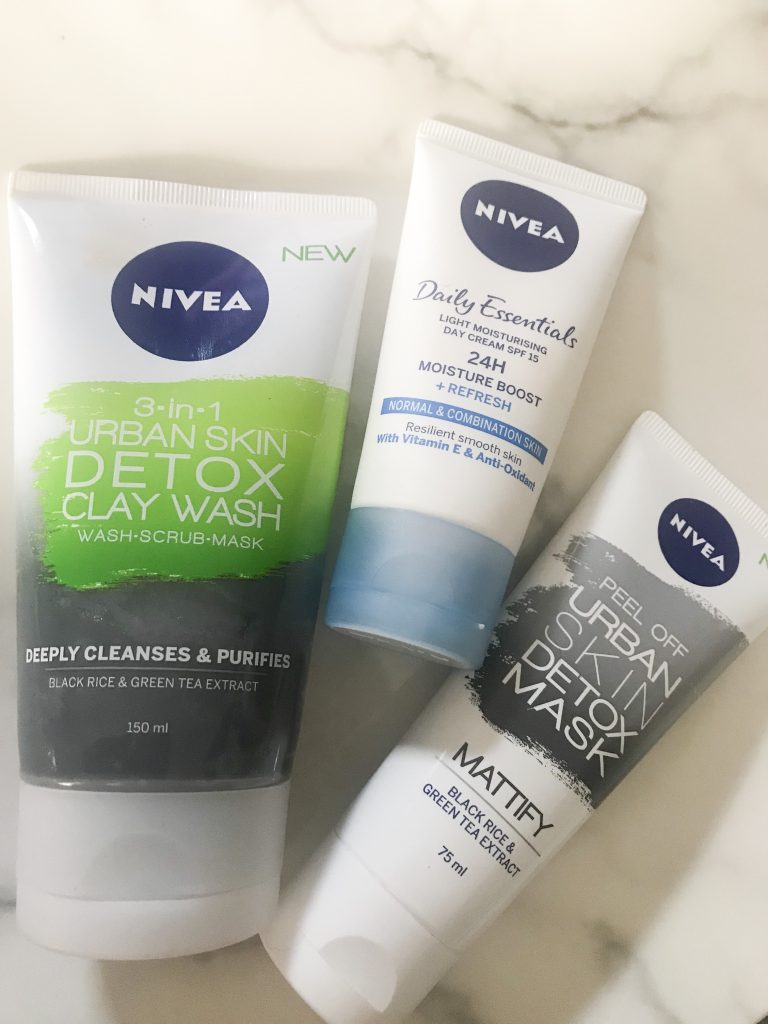 I think everyone loves Nivea, I know I do. I want to share these products with you, I have recently been kindly sent these skincare products from Nivea to try out. I'm just going to fill you in quickly on how my skin has been, since I have been pregnant I have had really dry skin and had so many breakouts. So I was very excited to give these products a go. I have been using them for a month now.
Daily Skin Care Routine
In my daily skin care routine, I use a cleanser, moisturizer and a face mask at least once a week. The first product I tried is the 3 in 1 Urban Skin Detox Clay Wash. This says that it deeply cleanses and purifies, it also has black rice and green tea extract.
Cleanser
First thing that I noticed about the Detox Clay Wash is that it is black in color and its a very thick consistency. It has this amazing cooling effect and really gets into your pores. I really like it, I use the tiniest amount and it goes a really long way. I really take my time scrubbing it into my Tzone are and down my neck. After I washed it off my skin felt so clean and radiant.
Moisturizer
After that I go in with my Nivea Moisturiser, this one is called the Daily Essentials, light moisturizing day cream. It gives you 24 hours of moisture boost and refreshes your skin. It has vitamin E an Anti- Oxidant in it. I usually have combination skin, but as I said before since being pregnant I have been getting very dry skin especially on my nose and neck. It is a much thinner product and wow it really refreshes your skin and adds moisture. Again a little bit of product goes a long way which is great because you know the product is going to last you a long time as well as being great. I have noticed that my skin is so much more softer and more radiant.
Face Mask
The last product is a peel off urban skin detox mask, mattifys and has black rice and green tea extract. It intensively cleanses and removes dirt from pores, reduces excess sebum and oil and leaves skin mattified and radiant. You are suppose to apply once or twice a week thinly and evenly onto the cleansed face, avoiding the hairline, eyebrows, eye and lip area. So I tried it and it is a thin black consistency, kind of sticky too. I found it leaving my skin feeling a tiny bit dry at first after I took it off. In the long run it has left my skin feeling good.