Hi! x o
Its been a while since I have posted on my blog. I have really been loving these beauty products, so I thought I would share them with you.
Body Shop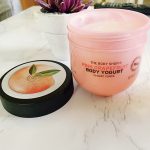 This body yogurt is new to me, I have always wanted to try one of their body yogurts and I chose the pink grapefruit scent as it has quite a strong smell. I have used it a few times, especially since I have been self tanning lately. It is a really light creamy texture, I wouldn't say its a very thick consistency.
The smell is so nice, very strong and lingers on your skin for at least a few days. I have found that my whole bathroom smells of pink grapefruit after using this and I absolutely love it.
The packaging is gorgeous too, very basic but cute. A baby pink colour and a picture of a grapefruit on the lid.
I definitely recommend you guys to try this product its so good!
MelissaJayneXO