I want to share with you one of my favourite makeup eyeshadow palettes from Makeup Revolution/ I Heart Revolution. I went mad for the chocolate palette range! I saw it for the first time in my local Superdrug and I was like OMG who is this brand they are amazing!
What I love about Makeup Revolution is they give you such great quality makeup products with an affordable price.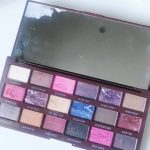 This palette is so beautiful! Lets first talk about the packaging, I love the whole alien, galactic space vibe that it gives. The dripping chocolate is so cool too!
When you open the palette you get mostly shimmers in this one, which I found to be a little difficult when it came to making a full eye look out of it. However there are some and they are very pigmented, they also blend so nicely.
The shimmers are a bit different to the other Makeup Revolution palettes. They have like a velvety coat to them and give quite a pigmented look which I love! I love the cute names for the shades I think it adds an extra appeal to the palette.
I would also say there isn't much fall-out when it comes to these shades, the palette also comes with a mirror which makes it perfect for taking it away with you travelling or just sitting at the end of your bed.
I think if you love Makeup Revolution and pigmented eyeshadows then you will definitely love this palette, try it out and let me know what you think!
Comment below if you want me to review some other palettes from Makeup Revolution.
Here is my eyeshadow tutorial on the look that I created using it : https://www.youtube.com/watch?v=PKae_ViQhiU&t=241s
Until next time..
Melissa Jayne xoxo