I have been really struggling with my hair lately, I feel like it is so dull, boring and greasy! Yes, I said greasy, now I do wash my hair all the time. But for some reason it never feels really clean if you know what I mean and also it never stays clean. As soon as I blow-dry it or curl it it looks greasy. So I have a thyroid disease and when my levels aren't right which they haven't been over the past month my scalp gets over oily. So I thought right, I need to change my shampoo and conditioner.
So I always use Lee Stafford styling products so I thought maybe I should take the plunge and try their new hair shampoo and conditioner Coco Loco range. I actually DM'd them on their Instagram and asked them what products I should try.
So they recommended the keep it clean range, so I dragged my fiancé out to the shops and I purchased the shampoo and conditioner but I was more intrigued to try their new Coco Loco range.
First impression's I love the packaging, it is really cute and appealing to look at. I love how it looks around my bath. I also grabbed the Coco Loco hair mask too. It was 3 for 2 in Boots. So how could I not… anyway as soon as I put this on my hair I could smell it straight away.
So on the back of the bottle it said to wash you hair twice, I never knew this apparently you should shampoo your hair, rinse then shampoo again. Let me tell you… when I shampoo'd the second time my hair really lathered up and it was amazing! I don't know why I didn't try this sooner.
Second I used the hair mask, left it on for 10 minutes and straight after I rinsed it out my hair felt instantly silkier. After drying my hair it honestly looked incredible, but the test was for me to brush it and style it. After styling my hair usually looks more oily however it looked and smelt incredible. I am so happy with these products.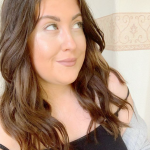 The best thing is I shared these pictures on my Instagram and Lee Stafford mentioned me in their story and tagged me. I was so excited it was literally the best day of my life. I have always wanted to work with Lee Stafford and their products in the future as a blogger.
Now are you ready for this exciting part, they DM'd me and asked me for my address and they want to send me some products to try. GOAL MADE. Honestly the happiest I have been ever.
I really hope you guys enjoyed this review, definitely recommend these products.
Speak soon
XO,Melissa