Hey guys, I am so excited to be writing this post. I have recently been kindly gifted 3 products to try from Jolie Beauty. They have sent their new Second Skin Bronzer and Blusher. Firstly I wanted to show you how stunning the packaging is.
The packaging is a gorgeous gold it looks so stunning and premium. I was literally blown away at first impressions. The Bronzer comes in 3 stunning shades:
Latte (my shade) – This shade is for fair skin, It adds just enough warmth with out creating an orange look.
Caramel- Medium shade, a mixture of cool and warm tones.
Toffee- Darkest shade , this shade has more warm tones.
I went for the Latte shade as I have a light to medium skin tone, I want to share with you all of my thoughts now.
I am absolutely blow away at my first impressions of the bronzer, I picked a very small amount up on my brush. There was 0 amount of fall out, it felt like a very light powder. I was so impressed how it blended with the rest of my makeup. I used a very glowy foundation and the bronzer just complimented it so well.
It didn't give me a muddy cool look, which I love. The shade is absolutely perfect for my skin. I also noticed how beautiful and natural it looks. It adds so much dimension to your face and looks flawless.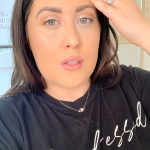 Now lets talk about the Blusher I have the Rendezvous shade and Flushed shade, the Rendevous is more of a pinky shade whereas the Flushed shade is more coral toned. In this picture I used the Rendevous shade it complimented my skin really well.
Again just like the bronzer I found there to be no fall out and it looked so natural and flawless.
I also noticed how good it looks in photos, I had so many comments on my Instagram and Youtube channel after using these products.
Overall I am very impressed and would definitely recommend these products, I absolutely love their Second Skin range and I can't wait to try more products from Jolie Beauty.
These products were gifted (in collaboration), opinions are all my own.