I am so excited to be sharing this with you this Scilla Rose Quartz Roller! I came home to such a beautiful PR package yesterday. Scilla Rose kindly gifted me this stunning jade roller for me to try out. I have actually always wanted one of these, especially since being pregnant I have suffered with a crazy amount of puffiness in my face and under my eyes.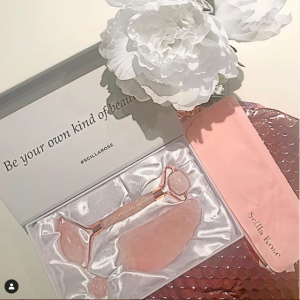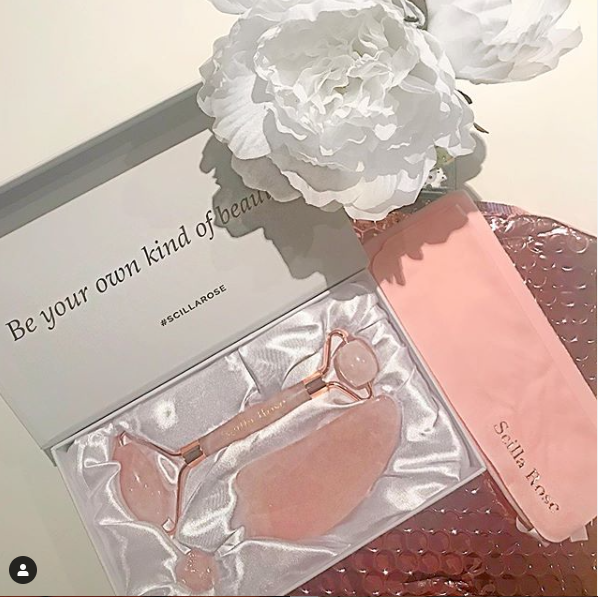 In the beauty kit you get a beautiful pink rose quartz jade roller and two crystals. You also get a velvet cloth to clean your products and a little case for it to. I am so impressed with the overall packaging of this product first of. I love the quality of these as well as the appearance.
One of the most wonderful healing and beautifying stones, Rose Quartz is the new go to natural beauty stone to enhance anti-aging benefits:
Eliminates toxins
Reduces puffiness
Rolls out wrinkles and expression lines
Brightens complexion
Improve elasticity of the skin
Relieves stress and tension
Promotes lymphatic drainage
Reduces dark circles under eyes
Soothes inflammation and redness
Helps with breakouts along the jawline
Stimulates collagen when passed over acupressure points improves blood circulation and skin tone for a health and youthful glow
Simply apply your favourite moisturiser or serum and massage and roll it in to your skin using your Scilla Rose Quartz Roller.
It is very important to know that you are purchasing an authentic and premium product as you don't want to be rubbing fake chemicals in to your skin. All Scilla Rose Quartz Rollers are handcrafted with love and premium 100% rose quartz mined from Brazil.
Check out Scilla Rose other products to.
Until next time..
Melissa Jayne xoxo