When it comes to fashion, it can be hard to find certain items especially good decent leggings, body suits etc. Since I have had my baby last December I have found myself wanting to wear more comfy clothes. I also think a Slimming body suit can be very flattering.
I think fashion also comes down to feeling comfortable especially as a slight plus girl like my self. I am a size 12/14 ever since my daughter. I wouldn't change any of that for the world. I am happy with my body but I can find it to be quite difficult to find the right items of clothing for me.
I didn't even know about Waist trainer shorts these look super comfy keep everything in and looks amazing under leggings and dresses.
Shape wear shorts can squeeze your bottom and lift your butt.
fashion is a weird one this year if you ask me, I feel like everyone just wants to be comfy because we're all at home.
At FeelinGirl there is so much to choose from gym wear, leggings, body shapers, shorts and pants.
There is also a Black Friday Sale going on which is so fantastic.
I love companies who look out for us plus size girlies too, they have such a huge variety of items. The sizes vary from small- right up to a 6XL.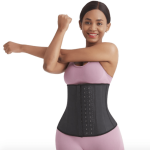 That is insane if you ask me, I have always struggled to find certain items of clothing.
when you wear the right clothes and items as a plus size woman you feel so much more confident. You can feel sexy and confident as a plus size woman it's all about wearing the right clothes to fit your body shape.
I really hope you enjoyed this post. Let me know what you are going to grab in the sale! Treat yourself ladies!
This post is in collaboration, however all opinions are my own.