Hey Babes!
So I don't know if you have seen this craze thats going on over on instagram, makeup swatches. Obviously everyone has always swatched eyeshadows/lipsticks etc. Its like its gone crazy with eyeshadow swatching lately. So I have obviously decided to join in.
Here is the Urban Decay Born To Run Palette: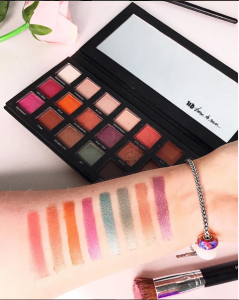 You know I've recently told you guys about this palette, I honestly can't get enough of it. I have fallen involve with packaging first of all. Then when I opened the palette up every colour spoke to me. I still have so many colours to play with and I can not wait. So make sure you are subscribed to my youtube channel- melissajaynexo and following my Instagram – https://www.instagram.com/itsmelissajayn/
Next I have swatched the Violet Voss Pro Palette: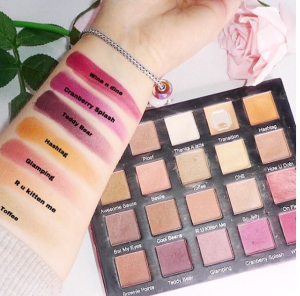 This palette has been with me for such a long time, I think my mum gave me this for christmas and I absolutely love this. Deffo one of the #holygrail I am obsessed with the colour hashtag. I always use this as my transition colour and then go in with either cranberry splash or how u doin. I love them all. I have swatched a few of my faves.
This palette by Makeup Revoloution/ I heart Makeup Mint Chocolate Paletteis clearly a no brainer. Its stunning and has the most amazing packaging;) and its ONLY £8.99.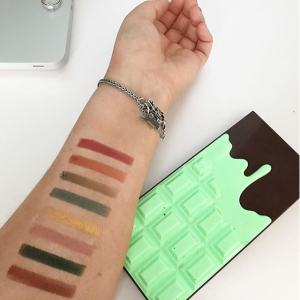 I have most of the chocolate palettes but this one has to be one of my favourites. The matte colours are beautiful and so pigmented, look at that gold as well. So stunning, I can not get over how gorgeous the mint chocolate palette is and the shades are beaut! They swatched so easy I only needed one swipe no more. Thats how pigmented they are.
Another Makeup Revolution/ I heart Makeup palette- Naked Chocolate palette.
Another stunning chocolate palette, this one is mostly neutrals and mattes which are my favourite kind of colours. You know I love my neutral/cool tones. There are some beautiful stunning shimmers in there as well. What I love about this palette is you can use the bottom right white shimmer for below the brow.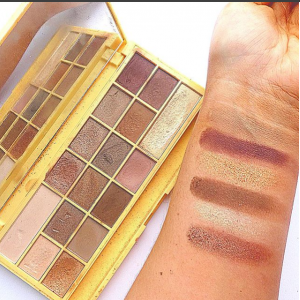 Leave a comment whats your favourite palettes and do you swatch makeup?
If you want to see more swatches and pictures of makeup, follow my instagram