Hi Guys!!
I have missed you, so a lot has happened over the past few weeks. If you don't follow my social media's and YouTube channel then you wont know how lucky I have been recently. I have received some amazing PR packages from my favourite brands. Including Makeup Revolution/ I Heart Revolution.
So are you ready for this gorgeous package I am going to show you from the one and only I Heart Revolution-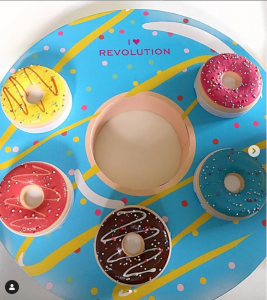 When this arrived in the post, I screamed i was so damn excited! I literally stared at it for a while thinking how have i done this, how have i achieved my biggest dream ever! Anyway they have sent me their new donut palettes, literally on that morning a few hours before I was in Superdrug looking at them. Then they arrived in a box, I was blown away. I'm sure I heart Revolution must have thought I was a crazy person because in my instagram story I posted me opening this and i was very emotional. LOL. So as you can see they sent their five donut palettes.
Strawberry sprinkles, maple glazed, chocolate dipped, blueberry crush and raspberry icing.
They are £5 each to buy from either Superdrug or Revolution Beauty
I am seriously obsessed with every single palette, I am reviewing each and every one of them one by one. I have already tried the Strawberry Sprinkles on My Youtube Channel.
Head over to my Instagram for more pictures and reviews.
P.S Don't forget to follow and subscribe.
MelissaJayne
XO
The following two tabs change content below.
Hey Loves! My name is Melissa Jayne I am a beauty and lifestyle blogger. I blog about anything beauty and lifestyle related. I am also a beauty youtuber! Make sure to follow me and subscribe to my channel! xo
Latest posts by Melissajayne (see all)