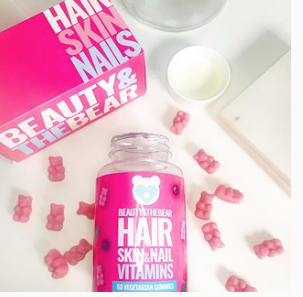 I have actually received two bottles of these now and I have to say I am super impressed. They have recently been gifted to me and I can't wait to share my experience with you guys. First of all they are to help grow your hair, nails and give you good skin. They are vegetarian, gelatine free, cruelty free, nut free, dairy free and gluten free. They promote natural collagen production and a smooth healthy complexion. They are formulated with clinically proven ingredients for effective results. They are also shaped into little bears which are pink. To top it off they actually taste amazing, I feel like the best way to describe them is a more softer version of a strawberry chewitt which is yum RIGHT!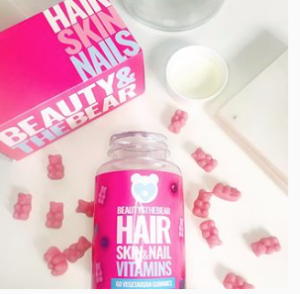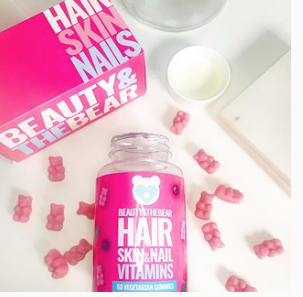 So I have been taking two of these gummy bears a day for a about a month I would say and I have noticed some changes. I suffer from a condition called graves disease which is known as under active thyroid now. My skin can be very dry, brittle nails and hair loss. So every product out there is worth a try for me. I have noticed most of all that my skin is very glowy and less spot breakouts. Another thing I have noticed are my nails don't break, I'm so chuffed that I can finally wear normal nail varnish or get a gel manicure and they won't snap off. I am putting it down to these gummies for sure because I have noticed a difference ever since I have been taking them.
I have never tried any hair and nail growth gummies before, just didn't really think they would work to be honest but I can assure you I have 100% seen results from these. I am going to continue to take them for due course, see how I get on. I have also noticed a little that my hair doesn't fall out as much as it use to, sometimes it use to fall out when I washed it or brushed it, occasionally find hair on the back of my coat and tops. Worst part of thyroid condition I'm my eyes! hate it I'm a young girl I want my hair to look glorious however you have to be thankful for what you have got.
So my final thoughts on these are they have definitely helped my skin, nails and hair. I love the taste of them I actually look forward to them in the morning with my tea/coffee. They are so cute and I can't wait to carry on using them.
Let me know if you have tried them down below, or are going too get your own gummies.
This product was gifted to me, all reviews are my own.
#AD #GIFTED